Simatic Fetch/Write

ISO/OSI Model

Implemented Protocol Stacks

Applicable Products

References
Fetch/Write (ISO-on-TCP RFC 1006)
The protocol Simatic Fetch/Write enables the connection of S7 automation devices with any communication partner. It provides direct access to the S7 user memory without changes in the user application itself, if applicable.

Only a communication unit (CP) for Ethernet connection or alternatively an onboard Ethernet interface that supports ISOonTCP (RFC1006) as well as the protocol Simatic Fetch/Write must be available.

An onboard Ethernet interface requires the development of special function modules for the communication in addition to the S7 user program. This is not necessary with an external communication unit (CP).

The SIMATIC® S7 series supports the services FETCH and WRITE via the protocol ISO-on-TCP only in passive mode, i.e. it operates as a server and does not establish communications links spontaneously.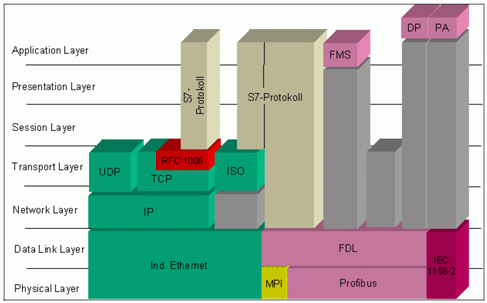 ISO/OSI Model
7
Application Layer
Fetch Read / Fetch Write
6
Presentation Layer
n/a
5
Session Layer
n/a
4
Transport Layer
ISO-on-TCP (RFC 1006)
TCP (RFC 793)
3
Network Layer
IP (RFC 791)
2
Link Layer
IP (RFC 894)
1
Physical Layer
Ethernet (IEEE 802.3)
Implemented Protocol Stacks
Applicable Products
ipConv
Universal protocol converter for highest degree of flexibility
Details...
ipConvLite
inexpensive protocol converter for standardized application
start price 1.800,- €
Details...
References
ICESA S7, Spain
Details...
Spain
ipConvLite
IEC 60870-5-104, Slave / Simatic Fetch/Write, Master /
Simatic Fetch/Write - IEC 104, Italy
Details...
Italy
ipConvLite
IEC 60870-5-104, Slave / Simatic Fetch/Write, Master /