ABBIran
| | |
| --- | --- |
| country | Iran |
| customer | ABB, Switzerland |
| end customer | |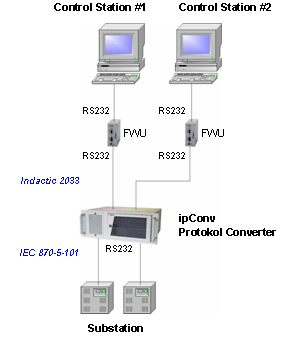 The ipConv protocol converter connects the substations to both control stations.
Communication between the protocol converter and a substation is implemented with the IEC 60870-5-101 protocol. Data transmission to the control stations is carried out via the Indactic 2033 protocol, each control station is able to communicate with each substation.
The TCT telecontrol transformer takes care of translation between synchronous to asynchronous formats.
Used Products
ipConv
Universal protocol converter for highest degree of flexibility
Details...
Used Protocol Stacks
Hardware
IPC194 19" 4U
(no longer available)
The robust and flexible industrial PC. This PC industrial PC can be extended about a passive backplane with a high number of ISA and PCI cards.
Details...