HVDC Black Sea, Georgia
| | |
| --- | --- |
| country | Georgia |
| customer | Siemens AG, Germany |
| end customer | Energotrans Ltd., Tiflis, Georgia |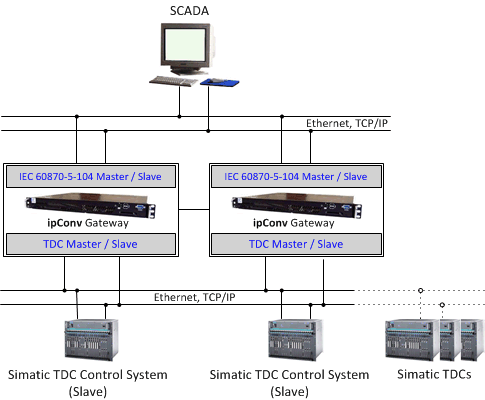 IPCOMM delivered ipConv gateways to link the TDC control systems with the IEC 60870-5-104 master stations.
The TDCs are connected to the gateway with the proprietary protocol Simatic TDC.
Our industrial pc IPC191V3 19" 1U is used as hardware platform. The mass storage is a CompactFlash (without rotating parts) with an MTBF = 1,000,000 h. Each IPC191V3 19" 1U is equipped with six Ethernet interfaces.
The gateways operate redundantly in "hot standby" mode. This means only one of the two devices is active at any time. The passive device monitors the active one and if the active one fails, the passive one automatically steps in and resumes communication.
This IPCOMM solution is part of the HVDC system BLACK SEA in Georgia.
Black Sea
Siemens Energy is to install two turnkey HVDC (high voltage direct current) back-to-back links in Georgia to connect the Georgian power supply network with the grid system in Turkey. As part of the Black Sea Transmission Network Project, one of the most significant infrastructure projects in Georgia, the two HVDC back-to-back links are each to transmit 350 megawatts (MW) of controlled electric power generated in various hydropower plants in Georgia to Turkey. Purchaser is Energotrans Ltd. based in Tiflis, Georgia.
(Source: www.energy.siemens.com)
Used Products
ipConv
Universal protocol converter for highest degree of flexibility
Details...
Used Protocol Stacks
Hardware
IPC191V3 19" 1U
The robust and flexible industrial PC in ultra flat design. This solution offers a combination of a high degree of flexibility and performance with a relatively low price.
This system is discontinued and no longer available!
Details...