Andritz Hydro GmbH, A-Vienna
| | |
| --- | --- |
| country | South Africa |
| customer | Andritz Hydro GmbH, A-Vienna |
| end customer | ESKOM |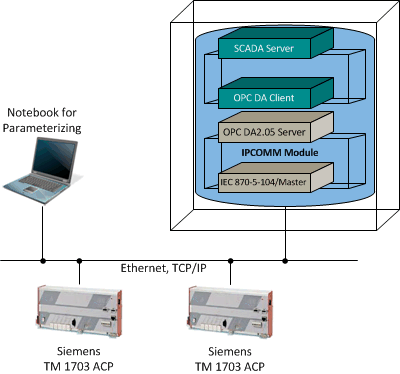 The OPC interface is used to connect the Siemens RTUs (TM 1703 ACP) with the control station. Therefore the protocol conversion software ipConvOPC is implemented. The IEC 60870-5-104 protocol is converted to OPC DA 3.0, Server.
The Software was used to realize a project regarding the hydropower plant Gariep in South Africa.
The Gariep dam in South Africa
The Gariep dam is the largest dam of South Africa located on the Orange River, near the town of Norvalspont (Eastern Cape), 150 km south of Bloemfontein. Its ground is geologically determined by deposits of the Beaufort group within the Karoo main basin. The water is stored as drinking water for the city Johannesburg and the surrounding area. The dam has been built in order to prevent floods and for gaining electric energy.
(Source: WIKIPEDIA )
Used Products
ipConvOPC
Softwarepackage for conversion between OPC DA 3.0 Server and standard protocols
Details...
Used Protocol Stacks