Stadtwerke Augsburg
| | |
| --- | --- |
| country | Germany |
| customer | Siemens AG, Germany |
| end customer | Stadtwerke Augsburg, Germany |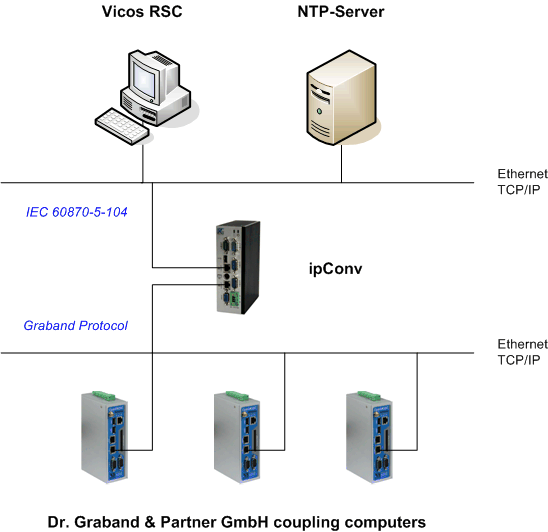 In this project coupling computers from the german company Dr. Graband & Partner GmbH are used to connect 53 railway point heater controls to the ipConv protocol converter. The Dr. Graband & Partner GmbH, Master protocol stack was implemented for the TCP/IP network communication.
The Vicos RSC control centre is connected to the ipConv protocol converter via the IEC 60870-5-104, Slave protocol stack using the existing network. There is also an NTP server available in this network. The ipConv protocol converter is a client of this server, as well as an NTP server for the coupling computers. This makes time synchronization between two different networks possible.
Used Products
ipConv
Universal protocol converter for highest degree of flexibility
Details...
Used Protocol Stacks
Hardware
MEC
Compact controller mountable on a DIN-rail specially suited for decentral applications
This system is discontinued and no longer available!
Details...