SVC Siems
| | |
| --- | --- |
| country | Germany |
| customer | Siemens AG |
| end customer | E.ON AG |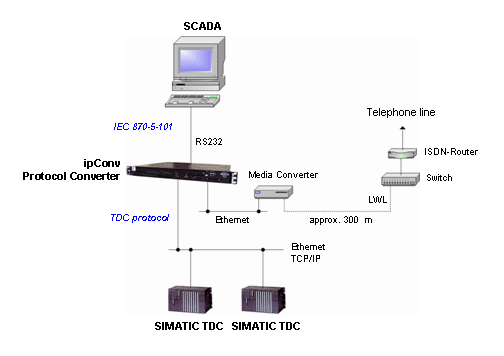 Coupling between the two SIMATIC TDC systems is realized with the ipConv protocol converter.
The protocol converter and the control station communicate via IEC 60870-5-101. The proprietary Simatic TDC protocol is used for the communication towards the SIMATIC TDC system.
An ISDN router is accessed via a dial-up telephone line for remote maintenance. An optical wave guide (LWL) is used to bridge the 300 m transfer distance between the telephone connection and the protocol converter. The physical link to the protocol converter is realized with a media converter, which converts from optical signalling to Ethernet.
Used Products
ipConv
Universal protocol converter for highest degree of flexibility
Details...
Used Protocol Stacks
Hardware
IPC191V2 19" 1U
The robust and flexible industrial PC in ultra flat design. This solution offers a combination of a high degree of flexibility and performance with a relatively low price.
This system is no longer available!
Details...