Interconnection Libya-Tunisia
| | |
| --- | --- |
| country | Libya/Tunisia |
| customer | Siemens AG, Germany |
| end customer | GECOL (General Electric Company of Libya) |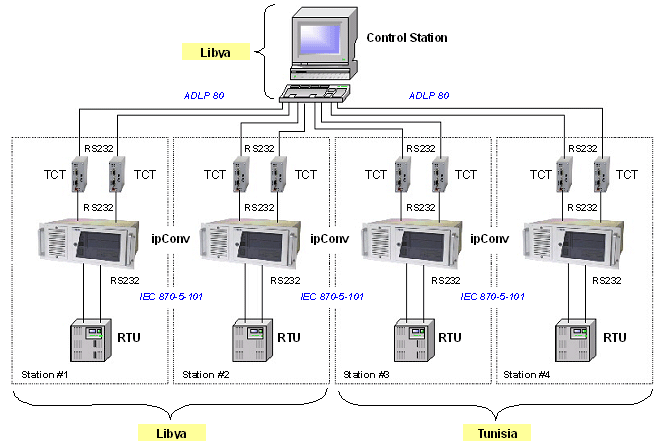 Coupling of the ALSTOM S900 RTUs to the control center is implemented via four protocol converters. The ABB protocol ADLP-80 is used for the uplink communication from the converter to the control station. Communication with the RTUs is based on IEC 60870-5-101 in balanced mode.
Redundant lines are used to connect the communication terminal devices to the protocol converter. The protocol converters and telecontrol transformer TCT are installed at stations #1 - #4.
Background
The Roweis and Abu Kammash stations in Libya are to supply electricity to the Medenine and Tatouine stations, securing the growing energy demand in neighboring Tunisia. This is achieved with the help of ALSTOM RTUs installed at these stations and linked to the national Libyan control system via IPCOMM protocol converters. From here energy distribution will be monitored.

GECOL (General Electric Company of Libya) is the government run electricity provider and operator in Libya.
Power generation is primarily based on combined power stations (oil and gas). In 1999 Libya generated a total of 19.5 billion KW, 90% of which were consumed.
Technical data:
Station
System

Libya

Roweis
220 kV Gas-insulated switching system (GIS), Siemens
Abu Kammash
220 kV ABB system

Tunisia

Medenine
220 kV GIS - Siemens system
Tatouine
220 kV Alstom system
Used Products
ipConv
Universal protocol converter for highest degree of flexibility
Details...
Used Protocol Stacks
Hardware
IPC194 19" 4U
(no longer available)
The robust and flexible industrial PC. This PC industrial PC can be extended about a passive backplane with a high number of ISA and PCI cards.
Details...
TCT
Telecontrol converter for pulse-code and pulse-length modulated protocols
Details...