In general, two solutions come to mind for the implementation of gateways:
direct conversion from one protocol to the other
conversion of protocol to and from a standardized format which does not depend on a protocol
The first approach is well suited for simple one-to-one conversions between related protocols. Both protocols are very close, i.e. there is a great resemblance between both protocols in the way information is represented. This approach offers only a very limited degree of flexibility with respect to expanding and decoupling both protocols. This need not necessarily be a disadvantage, if flexibility is not the top priority, as is the case in conversions from Profibus-DP to Modbus.
The second approach relies on the conversion of data from a protocol to a standardized protocol independent universal format. This universal representation must be powerful enough to cover all protocols. This method is best suited for universal conversions where the target protocol is not specified. It offers the highest degree of flexibility and modular expansion allowing decoupling of different protocols.
ipConv relies on the second approach, data is converted from a protocol-specific to a standardized protocol independent representation and back again.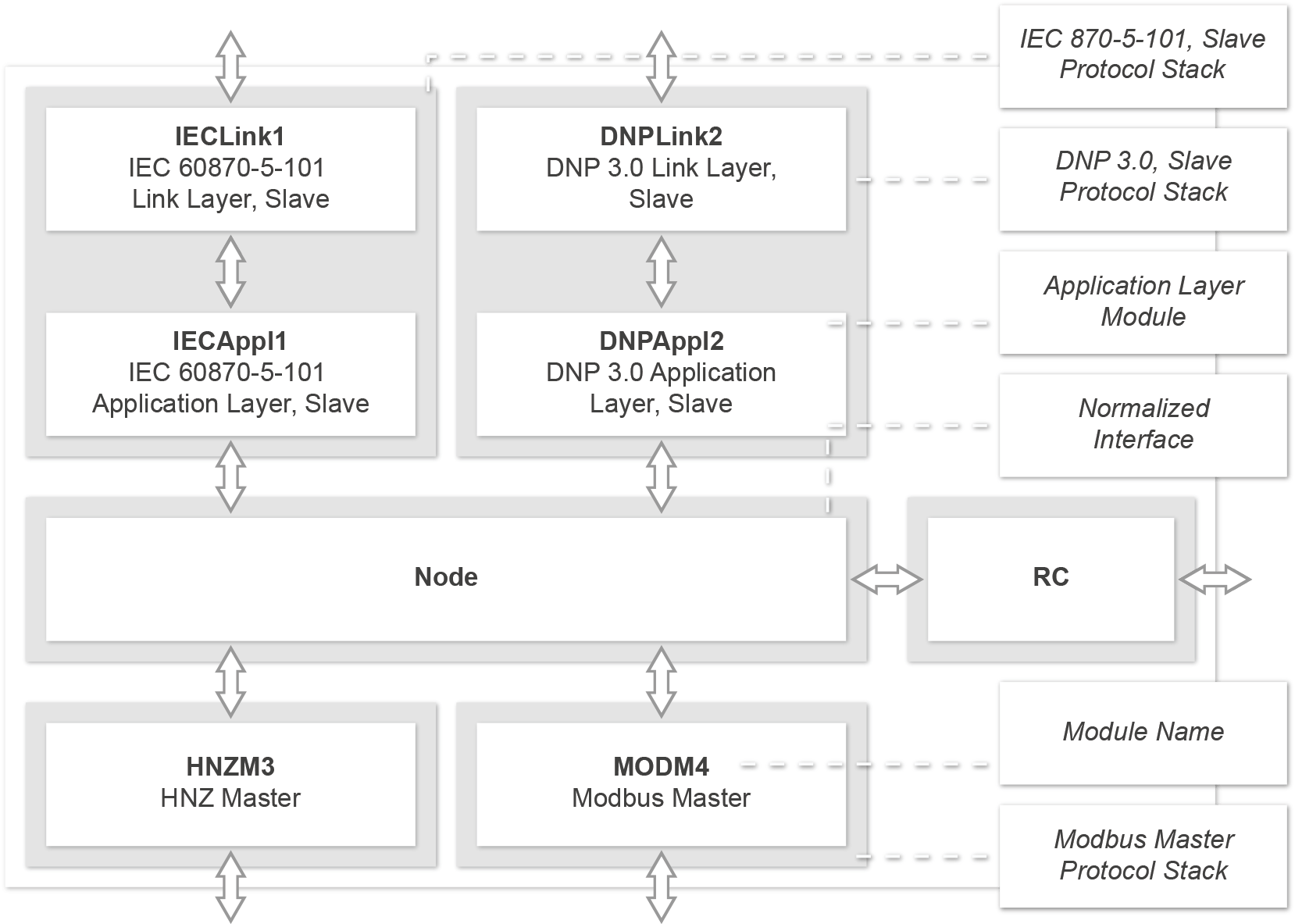 ipConv is a modular system comprising several protocol stacks assuming the protocol-specific communication tasks. Outwardly, the protocol stacks are connected to external communication partners. Internally, they are able to exchange data via a standardized interface with the node module (node). Generally, the protocol stacks are not directly connected to each other.
The normalized interface allows information to be represented in a way which is protocol independent, so that data can be exchanged between different protocol stacks.
Protocol stacks translate information from the protocol-specific representation to the normalized form and back. During this process, telegrams are broken down into their atomic units such as individual single indications.

Protocol stacks consist of one or several modules which are self-contained functional units. Simple protocol stacks usually comprise one single module. More complex protocols based on the OSI Layer Model will consist of several modules. In this case the module assumes the functionality of an OSI layer (e.g. link layer or application layer). Each module (as well as the link layer module) has its own interface to the node module, which enables the transfer of administrative data such as the connection status to a specific RTU.
Additional tasks of administrative modules are for instance failover control, time synching etc.