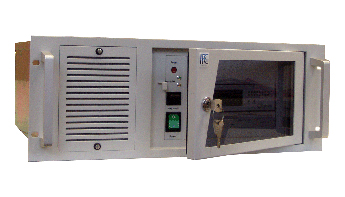 IPC194 19" 4U is the hardware platform used for our software products ipConv, ipRoute and others, completing our range of hardware in the high-performance segment. Compared with IPC191V2 19" 1U, IPC194 19" 4U offers more CPU performance and storage capacity. With its high number of PCI/ISA slots, IPC194 19" 4U is highly upgradable.
The mass storage device is a CompactFlash (MTBF > 1,000,000 h).
Standard power supply is 90 - 264V AC, 127 - 373V DC autorange, optional 24 V DC, 48V DC and 60V DC (please inquire about other voltages).
Until 2004 this PC model was used exclusively for all protocol converters. By now, we offer a range of follow-up models with different requirements.
Technical Details
CompactFlash cartridge with up to 1GB (MTBF ≥ 4.000.000h)

Two serial RS232 interfaces onboard

Serial communication board:
Up to 32 serial interfaces
DB9 connectors
50 bps to 115 kBaud transmission speed
Protected against transient overvoltage

Standard VGA graphic adapter

Power LED
HDD LED

Optional:
RS232 TX and RX LEDs
LCD Display to show different software conditions and hardware errors

Battery bufferd real time clock (RTC)
Reset

230 V~, 115 V~, 48 V=, 24 V=, 12 V= or 85 - 265 VAC autorange

483 mm x 176.5 mm x 370 mm

Environmental- / storage temperature

0° C to 45° C / 0° C to 60° C

5 % to 90 % non-condensing
Documentation