Simatic Fetch/Write - IEC 104, Italy
| | |
| --- | --- |
| country | Italy |
| customer | Siemens AG, Germany |
| end customer | Enel Power, Italy |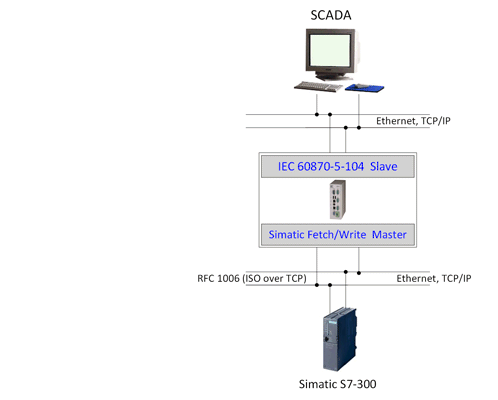 An ipConvLite gateway connects the Simatic S7 automation system to the IEC 60870-5-104 master station. All data areas of the Simatic S7-300 controller are accessed via the FETCH/WRITE interface. S7 communicates with the ipConvLite gateway by way of ISO-over-TCP (RFC 1006).
See also Communication with Simatic S7-300/400
The protocol Simatic Fetch/Write does not support the transmission of time stamps. However, the information may be time-stamped at gateway site. The gateway time can be synchronized with the master station via IEC 60870-5-104 protocol or over NTP (Network Time Protocol).
Our compact embedded controller MEC is used as hardware platform.
Used Products
ipConvLite
inexpensive protocol converter for standardized application
start price 1.800,- €
Details...
Used Protocol Stacks
Hardware
MEC
Compact controller mountable on a DIN-rail specially suited for decentral applications
This system is discontinued and no longer available!
Details...