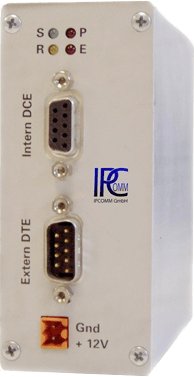 The protocol converter is equipped with RS232 interfaces which allow only asynchronous data traffic. A telecontrol transformer (TCT) can be used for coupling other protocols (for instance bit synchronous or pulse length modulated protocols).
The TCT is equipped with a µ controller responsible for converting data from or into the asynchronous format. The TCT does not assume a higher protocol function, telegrams are transformed on a one-to-one basis.
In order to prevent delays in receiving or transmitting, the connection towards the protocol converter operates at very high baud rates. Data transfer does not occur after a complete telegram has been received, but in smaller data blocks during reception.
The TCT is fitted with a serial RS232 interface in both directions as a standard. The serial interface towards the communication terminal equipment has been electrically isolated.
Technical Details
Interface in direction to the PC

RS232 (RxD, TxD, Gnd) DCE
DB9-connector
baud-rate max. 57.600 baud
asynchronous data format

Interface in direction to the data communi-cation device

RS232 (RxD, TxD, RTS, CTS, Gnd) DTE
DB9-connector
baud-rate max. 2.400 baud (higher baud-rates in request)
4 in- and outputs (RxD, TxD, RTS, CTS) are optodecoupled in acc.
to VDE 0884
insulation voltage 2kV=

1 LED for function diagnosis
3 LEDs for data transmission (receiving, transmission and error)

Environmental- / storage temperature

0° C to 55° C / -10° C to 70° C

5 % to 90 % non-condensing
Documentation