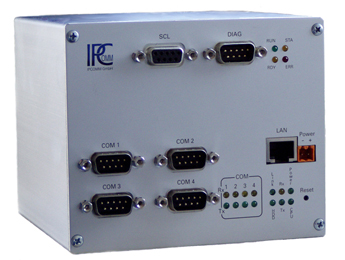 HECPM is a PC based embedded controller that has been designed in particular for industrial applications. It contains no moving parts, its low power consumption means that a fan is not needed.
The basic version of HECPM is fitted with a PC/104 CPU module and has four serial RS232 interfaces and Ethernet adapters. Unlike HEC, HECPM also has an additional Profibus DP Master interface.
The Profibus DP Master has a 7kB dual port IO memory, up to 3.5kB can be used for each data direction. It supports the connection of up to 125 slaves.
A CompactFlash with an excellent MTBF > 4,000,000 h is used for storage.
Integrated LEDs offer a number of diagnostic functions. A power indicator, a send and receive indicator for the RS232 ports and a network controller indicator show the current operation states. A CPU LED shows the different software operating modes.
Performance Overview
Graphical comparison of IPCOMM gateways with regard to the maximum number of information changes/s at 100% throughput and the maximum number of node variables that can be managed, processed and transmitted.
Technical Details
CompactFlash cartridge with up to 16 GB (MTBF ≥ 1.000.000h)

SDRAM max. 128 Mbyte, SO-DIMM

4 x RS232 serial interfaces (COM1 - COM4) surge protected
1 x 10BaseT-LAN
Optional: 1 x CAN-Bus (opto-isolated)
PROFIBUS-DP, Master Interface (9,6 KBaud bis 12 MBaud)
Further interfaces on request

Power LED
Link and activity for LAN interfaces
Transmit and receive display module for the RS232 interfaces
HDD LED
LED to show different software conditions
PROFIBUS (RDY, RUN, STA, ERR)

Battery bufferd real time clock (RTC)
Watchdog
Reset

Environmental- / storage temperature

0°C to 45°C / -10°C to 70°C

5 % to 90 % non-condensing
Documentation