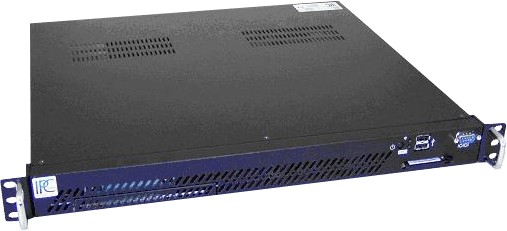 IPC191C2 19" 1U serves as hardware platform for our software products ipConv, ipRoute and others.
IPC191C2 19" 1U is designed for high-end applications and substantially more efficient than IPC191V3 19" 1U. Compared with IPC191V3 19" 1U, IPC191C2 19" 1U is able to transmit a multiple of data points/information. In opposition to IPC191V3 19" 1U, IPC191C2 19" 1U is featured by two CPU cernels and the expandability with additional working memory.
It is also fitted with up to 16 serial RS232 ports. The device comes with three 10/100/1000 MBit LAN interfaces as standard and can be fitted with more. Its two PCI slots make it highly upgradable.
All industrial PCs are assembled and subjected to rigorous testing. This includes a comprehensive function test before and after an exhaustive burn-in test of minimum 48 hours.
Like all our systems, IPC191C2 19" 1U has been designed for sustained continuous 24-hour operation and maximum availability. True to our 'simpler is better' design philosophy, we intentionally avoided highly sophisticated components, placing a high value on passive (fanless) component parts. Quality was another determining factor for choosing the individual elements. While its architecture is highly similar to that of conventional microcontroller-based equipment, it offers the hardware infrastructure required for an operating system such as Linux or Windows. Some highlights of the IPC191C2 19" 1U:
•passive fanless power supply
two redundant premium supporting fans for expanding the temperature range and durability, which are only brought on stream when the system reaches critical temperatures
CompactFlash with a MTBF ≥ 4,000,000 h for mass storage
The operating system and the application are configured in such a way that the limited number of write cycles and comparably low write speed of the CompactFlash mass storage do not affect performance. Due to this special configuration, neither the operating system nor the application needs to access the CompactFlash during runtime. The operating system's kernel is stored in a write-protected sector of the CompactFlash, thus ensuring that the system is always accessible. This is of particular importance, since most devices are used without a screen or keyboard and administered only via the Ethernet. All temporary files, such as log files are written to an internal RAM disk, enabling a high read/write speed. In addition, this renders the system insensitive to sudden power outages. After more than ten years' usage, the CompactFlash has proven to be a highly suitable storage medium for our applications.
Standard delivery of the system includes either a 90 - 264V AC, 127 - 373V DC (autorange) or a 12V/24V DC power supply. Other voltages on request.
Technical Details
19" rack mount chassis (1U)
Dual PCI riser card
Excellent air flow for maximum heat dissipation

Fanless
90 - 264 V AC, 127 - 373 V DC autorange, optional 10 - 36 V DC - further voltages on request
Power consumption: max: 85 W (depending on the used type)
CE/TÜV certified

Intel Core2Duo Mobile 2000 MHz Dual Core CPU, other on request
Max 3 GB DDRII RAM
EIDE hard disk and flash disk drive interface
2 x high speed serial ports
Real-time clock/calender
3 x RJ45 10/100/1000 BaseT LAN interface onboard

Up to sixteen serial RS232 ports
DB9 male connectors, optional DB25 (Male, Female)
50 bps to 921.6 Kbps transmission speed
16 KV ESD protection

Rugged CompactFlash, Industrial Grade
Removable flash card
No moving parts
Max. 16 GB supported
Vibration: 15 G peak to peak max.
Shock: 1000 G max.
MTBF ≥ 4,000,000 hours
Bad block scanning/handling
Static wear leveling system
6-Bit ECC
2.000.000 write/erase cycles

Standard VGA graphic adapter

All components are CE certified
Height: 1U
Dimension (W x H x D): 19" x 1.75" x 15" (482.6 mm x 44.45 mm x 381 mm)
Weight: ca. 6,5 kg

Operating temperature: 0° C to 45° C
Storage temperature: 0° C to 60° C
Relative humidity (non condensing): 5 % to 90 %
Documentation