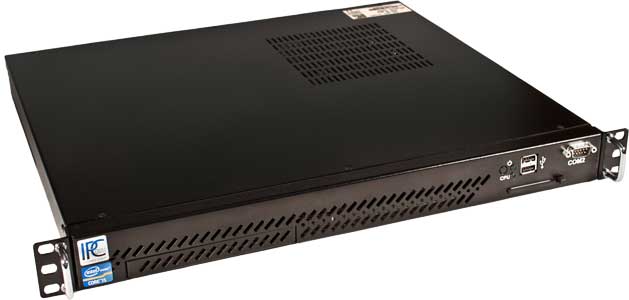 IPC191I5 19" 1U serves as the hardware platform for our software products ipConv and others.
Compared with IPC191V3 19" 1U, IPC191I5 19" 1U offers a very high performance and energy efficiency. Up to 16 serial RS232 ports are available. The device is equipped with three 10/100/1000 Mbps BaseT (RJ45) LAN interfaces as standard, but can be fitted with more. Its two PCI slots (16 x and 1 x) make it highly upgradable.
All industrial PCs are assembled and subjected to rigorous testing. This includes a comprehensive function test before and after an exhaustive burn-in test of minimum 48 hours.
Like all our systems IPC191I5 19" 1U has been designed for sustained continuous 24-hour operation and maximum availability. The chassis has an excellent air flow for maximum heat dissipation.
True to our 'simpler is better' design philosophy, we intentionally avoided highly sophisticated components, placing a high value on quality, availability and long service life.

Some highlights of the IPC191I5 19" 1U:
up to four times computing power compared to IPC191V3 19" 1U
up to 8 GB RAM
passive fanless power supply
Intel i5 Mobile CPU
ball bearing mounted industrial fans
industrial CompactFlash with an MTBF ≥ 1,000,000 h for mass storage
The system is available either with 90 - 264 V AC, 130 - 367 V DC (auto range) power supply or with 10 - 36 V DC power supply as standard. Other voltages are available on request.
Performance Overview
Graphical comparison of IPCOMM gateways with regard to the maximum number of information changes/s at 100% throughput and the maximum number of node variables that can be managed, processed and transmitted.
Technical Details
- 19" rack mount chassis (1U)
- Dual PCI riser card
- Excellent air flow for maximum heat dissipation with ball bearing mounted industrial fans

- Fanless
- 90 – 264 V AC, 130 – 367 V DC auto range
- Input frequency: 47 – 63 Hz
- Hold up time: > 41 ms at 115 V AC and full load
- Switch-on delay: 100 - 550 ms
- Switch-off delay: 1 ms
- Power consumption: max. 100 W (depending on the used type)
- CE, UL 60950-1, EN 60950-1

Power Supply DC (optional)

- Fanless
- 10 – 36 V DC
- Hold up time: > 2 ms
- switch-on delay: 100…500 ms
- Switch-off delay: 1 ms
- Power consumption: max. 100 W (depending on the used type)
- CE, UL 60950-1, EN 60950-1

- Intel Core i5 Mobile Dual-Core CPU 2,5 GHz with excellent performance and energy efficiency (others, also Quad-Core CPU's on request)
- DDR3 RAM max. 8 GB (16 GB with another CPU possible on request)
- SATA interfaces
- 2 serial interfaces outward
- 3 x RJ45 10/100/1000 BaseT LAN interfaces onboard (further over PCIe on request)
- 8 x USB 2.0 outward (further on request)
- RAID SATA functionality (RAID Level 0/1)

- Up to 32 RS-232 interfaces
- DB9 male connector, optional RJ45, DB25 (male, female)
- Baud rate 50 bps to 921,600 bps
- 15 KV ESD protection

- Power LED
- LED to show different software conditions

- Battery buffered real-time clock (RTC)
- reset

- Rugged CompactFlash, industrial – grade
- Max. 16 GB capacity
- MTBF ≥ 1,000,000 hours
- No moving parts
- Shock: 1,000 G max.
- Removable flash card
- Bad block scanning/handling
- Static wear leveling system
- 6-Bit ECC
- 2,000,000 write/erase cycles
- Vibration: 15 G peak to peak max.
- Very short access time

Mass Storage SATA HDD
Raid Level 1 or 0 possible (optional)

- Two server HDD for continuous operation
- Max. 2 TB
- MTBF ≥ 1,200,000 hours

Mass Storage SATA SSD
Raid Level 1 or 0 possible (optional)

- No moving parts
- Max. 128 GB
- Very short access time
- Very high write/read performance

Supported Operating Systems

CD/DVD writer with slot-in technology

1 x DVI interface, 2 x display port (VGA possible with an adapter)

Operating temperature: 0 °C to 45 °C
Storage temperature: 0 °C to 60 °C
Rel. humidity: 5 % to 95 % not condensing

CE:
EN 61000-6-2: 2005
EN 61000-6-3: 2007+ A1:2011+ AC:2012
EN 61000-3-2: 2006 + A1:2009 + A2:2009
EN 61000-3-3: 2008

Height: 1 U
Dimension (W/H/D): 19"/1.75"/15" (482.6 mm/44.45 mm/381 mm)
Weight: approx. 6 kg (depending on the used type)
Documentation