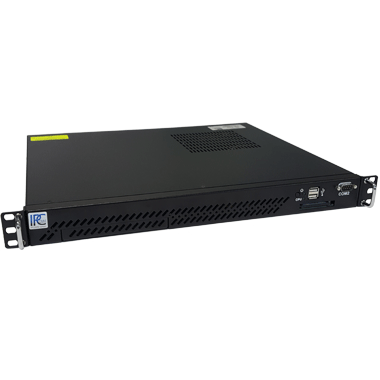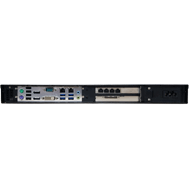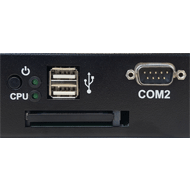 The industrial PC IPC191I7 19" 1U is our latest and most powerful gateway platform.
The system is supplied with the newest version of our real-time ipLinux operating system.
The industrial Mini-ITX mainboard is an ultra-compact x86 platform with two onboard LAN interfaces.
The two PCIe slots allow flexible upgrading with serial RS-232 and/or network RJ45 interfaces.
Its heart consists of a very efficient Intel i7 processor. Four processor cores and Hyper-Threading Technology enable the simultaneous and smooth operation of several time-critical processes.
Together with our RS-232 Isolator and certified Ethernet switches the IPC191I7 19" 1U can be used under particularly rigorous electromagnetic, electrostatic and climatic conditions and is therefore compliant with the standard IEC 61850-3 (devices and systems in power plants and the substation environment).
Our VPN solutions ensure data transmission via secure communication lines.
All industrial PCs are assembled and subjected to rigorous testing at our company's facilities. This includes a comprehensive function test before and after an exhaustive burn-in test of minimum 48 hours.
Like all our systems IPC191I7 19" 1U has been designed for sustained continuous 24-hour operation and maximum availability. The chassis has an excellent air flow for maximum heat dissipation.
True to our 'simpler is better' design philosophy, we intentionally avoided highly sophisticated components, placing a high value on quality, availability and long service life.

Some highlights of the IPC191I7 19" 1U:
real-time operating system
higher computing power compared to IPC191I5 19" 1U
The results of the performance test are published in our Gateway Performance Charts.
up to 32 GB RAM
passive fanless power supply
Intel Core i7 Quad-Core CPU 3,4 GHz with Hyper-Threading Technology
ball bearing mounted industrial fans
industrial CFast card with an MTBF ≥ 4,000,000 h for mass storage
The system is available either with 85 - 264 V AC, 104 - 350 V DC (auto range) power supply or with 9 - 32 V DC power supply as standard.
Other voltages are available on request!
Performance Overview
Graphical comparison of IPCOMM gateways with regard to the maximum number of information changes/s at 100% throughput and the maximum number of node variables that can be managed, processed and transmitted.
Technical Details
- 19" rack mount chassis (1U)
- Dual PCIe riser card
- Excellent air flow for maximum heat dissipation with ball bearing mounted industrial fans

- Fanless
- 85 – 264 V AC, 104 – 350 V DC auto range
- Input frequency: 47 – 63 Hz
- Hold up time: > 40 ms at 230 V AC and full load
- Switch-on delay: 300 - 500 ms
- Power consumption: max. 100 W (depending on the used type)
- CE, UL 60950-1, EN 60950-1, IEC 61850-3

Power Supply DC (optional)

- Fanless
- 9 – 32 V DC
- Hold up time: > 50 ms
- Switch-on delay: 100…500 ms
- Power consumption: max. 70 W (depending on the used type)
- CE, UL 60950-1, EN 60950-1, IEC 61850-3

- Intel Core i7 quad core processor 3,4 GHz with Hyper-Threading Technology
- DDR4 RAM max. 32 GB
- SATA interfaces
- 2 serial interfaces outward
- 2 x RJ45 10/100/1000 BaseT LAN interfaces onboard
- 6 x USB 2.0 outward
- 4 x USB 3.0 outward
- RAID SATA functionality (RAID Level 0/1)

- Up to 32 RS-232 interfaces
- DB9 male connector
- Baud rate 300 bps to 921,600 bps
- 15 KV ESD protection

- Power LED
- LED to show different software conditions

- Battery buffered real-time clock (RTC)
- Reset

- Rugged CFast memory card, industrial – grade
- Max. 64 GB capacity
- MTBF ≥ 4,000,000 hours
- No moving parts
- Removable flash card
- Bad block scanning/handling
- Static wear leveling system
- ECC
- Very short access time

Mass Storage SATA HDD
Raid Level 1 or 0 possible (optional)

- Two server HDD for continuous operation
- Max. 2 TB
- MTBF ≥ 1,200,000 hours

Mass Storage SATA SSD
Raid Level 1 or 0 possible (optional)

- No moving parts
- Max. 128 GB
- Very short access time
- Very high write/read performance

Supported Operating Systems

CD/DVD writer with slot-in technology

1x DVI interface, 2 x display port

Operating temperature: 0 °C to 45 °C
Storage temperature: 0 °C to 60 °C
Rel. humidity: 5 % to 95 % not condensing

CE:
IEC 61850-3:2013*
CISPR 22:2008
IEC 61000-4-4
IEC 61000-4-5
IEC 61000-4-6
IEC 61000-4-11
IEC 61000-4-17
IEC 61000-4-18
IEC 61000-4-29
*) except serial, USB and Ethernet interfaces
(If required, corresponding interfaces must be externally protected e.g., by using our RS-232 Isolator.)

Height: 1 U
Dimension (W/H/D): 19"/1.75"/15" (482.6 mm/44.45 mm/381 mm)
Weight: approx. 6 kg (depending on the used type)
Documentation