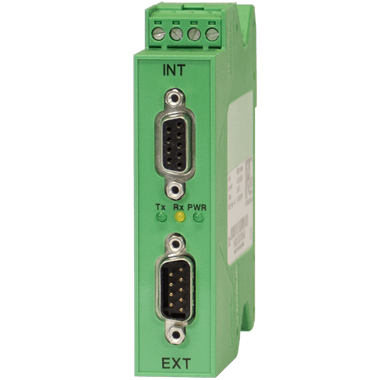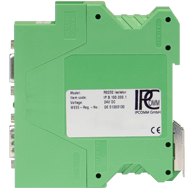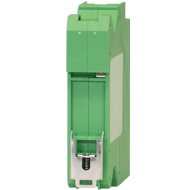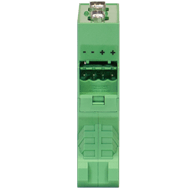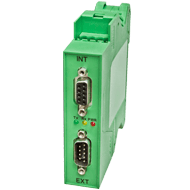 The RS-232 isolator protects your equipment against external influences in substations such as ESD, Surge, Burst in compliance with the standard IEC 61850-3. The used RS-232 transceivers have 15 kV ESD protection.
The RS-232 interface is galvanically isolated (up to 4 kV) between interface and telecontrol line (in the direction of RTU or control station). This is implemented with state of the art iCoupler®-technology. The monolithic air core transformers allow significantly higher data rates and insulation voltage than optocoupler, for example.
Operation as well as send and receiving activities are displayed by means of three LEDs. As an active device the RS-232 isolator can also be used as repeater to bridge longer distances. The operating voltage is 24V DC.
The device is designed to work stand-alone as well as with multiple isolators connected in series and supplied by a common 24 V port.
Technical Details
- 4 kV RMS galvanic isolation
- 15 kV ESD protection

Serial Interface for the PC

- RS-232 DCE, pin assignment with TxD, RxD, RTS, CTS, DTR, DSR, DCD and GND
- 9-pin D-sub female connector
- Baud rate: up to 230 kbps
- Parity: none, even, odd, mark, space
- Data bits: 5,6,7,8 bits
- Stop bits: 1, 1.5, 2 bits
- Flow control: RTS/CTS, XON/XOFF, none

Serial Interface for the Data Communication Equipment

- RS-232 DTE, pin assignment with TxD, RxD, RTS, CTS, DTR, DSR, DCD and GND
- 9-pin D-sub male connector
- Baud rate: up to 230 kbps
- Parity: none, even, odd, mark, space
- Data bits: 5,6,7,8 bits
- Stop bits: 1, 1.5, 2 bits
- Flow control: RTS/CTS, XON/XOFF, none

- Power
- Transmit and receive LEDs for the RS-232 interface

Supply Voltage / Power Consumption

- Extended temperature range from -40°C to +85°C
- Relative humidity: 5% to 95% non-condensing

- Plastic housing, including clip for mounting on a 35 mm DIN-Rail
- Internal bus connector (optional)
Documentation