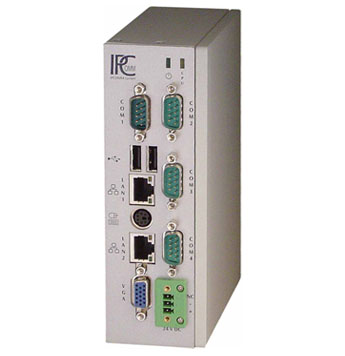 MEC is a PC based embedded controller designed for industrial applications.
The device contains no components that are subject to mechanical wear-and-tear which makes it highly robust, quiet and reliable hardware! Due to its low power consumption, a fan is not needed.
MEC is fitted with a 500Mhz AMD processor and is an ideal hardware platform for applications designed to process a high volume of data points like our products ipConv, ipRoute and others. It supports up to 1GB RAM.
Like all our systems MEC has been designed for sustained continuous 24-hour operation and maximum availability. System design followed our 'simpler is better' philosophy. Each device that leaves our production has been subject to at least 48 hours' of burn-in testing and several function tests.
Its architecture is highly similar to that of conventional microcontroller based equipment, but it still offers the hardware infrastructure required for an operating system such as Linux or Windows.
Its compact measurements of 50x160x111mm W/H/D enable a space-saving integration even when there is only limited room available.
The basic version of MEC is fitted with four serial RS232 ports and two Ethernet adapters.
A CompactFlash with an excellent MTBF  ≥ 1,000,000 h is used for storage.
Integrated LEDs offer a number of diagnostic functions. A power indicator and a network controller indicator show the current operation states. A CPU LED shows the different software operating modes.
Standard power supply is 18 to 75 VDC input which means it covers all popular voltages such as 24, 48, 60 V DC.
The controller can be upgraded with PC/104 cards!
Performance Overview
Graphical comparison of IPCOMM gateways with regard to max. number of changes of information/s at 100% throughput and max. number of configurable data points.
Technical Details
AMD LX800 500 MHz, fanless

CompactFlash Industrial - Grade
Removable flash card
No moving parts
Max. 8 GB supported
Shock: 1000 G max.
MTBF ≥ 1.000.000 h
Bad block scanning/handling
Static wear leveling system
6-Bit ECC
2.000.000 write/erase cycles

DDRRAM, max. 1024 MByte, SO-DIMM

1 x 9-pin D-SUB male connector RS232/422/485
3 x 9-pin D-SUB male connector RS232
2 x LAN RJ-45 10/100Base-T
Further interfaces on request

Power LED
LED to show different software conditions
Link and activity for LAN interfaces

Battery bufferd real time clock (RTC)
Watchdog

24 V DC / 9 W max., further voltages on request

Aluminum and steel chassis, including clip for mounting on a 35 mm DIN-Rail
Protection class: IP50

Environmental- / storage temperature

-10° C to 50° C / -10° C to 70° C

5 % to 90 % non-condensing
Documentation