Three control stations (master stations) have to be linked up to the Simadyn D digital control system. Data transmission requires conversion from Simadyn-D to the IEC 60870-5-101, SC1801 and IEC 60870-5-104 protocols.
The protocol converters operate redundantly in hot standby mode. The passive device monitors the active protocol converter and takes the initiative if the active one fails. The RS232 line switching is implemented with our channel switch CS.
Background
For this project, Siemens supplied 500 kV FSCs (Fixed Series Compensators) to the Chinese operator, 'China Southern Power Grid' (CSG), responsible power provider for Guangxi (GXPG) province.
CSG is part of the State Power Corporation of China (SP), their power grid covers all of China. High voltage lines (from 220 kV) stretch for over 146,000 km, making up 89% of all high voltage lines in China. Their capacity is 350 GVA, supplying 84% of Chinas overall capacity.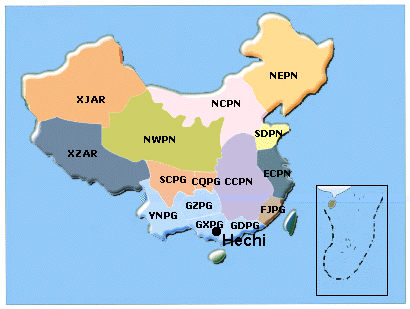 For further information please go to: State Grid Corporation of China (SGCC); Siemens(FACTS)
Picture Gallery
| | | |
| --- | --- | --- |
| | | |
| FSC Installation - 3 Phases | FSC - 1 Phase | IPCOMM protocol converter |
| | | |
| --- | --- | --- |
| | | |
| 500 kV substation | Chinese tranport vehicle | Transformer station |