Burfell
| | |
| --- | --- |
| country | Iceland |
| customer | Siemens AG, Germany |
| end customer | Burfell, Island |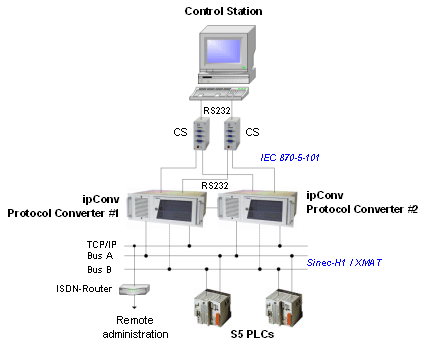 As part of its modernization initiative, Landsvirkjun wanted to update its control system. Their legacy Harris system was replaced by the Eterra SCADA system from AREVA. As a result, communication with the Burfell power station also had to migrate from Harris-5000/6000to IEC 60870-5-101 (for more details please go to Burfell) .
Connection to the automation devices is still realized via redundant bus systems running on the proprietary XMAT protocol based on Sinec-H1. Protocol converters, too, are laid out redundantly (switching over Channel Switch CS) and operate in hot/standby mode.
An ISDN router enables remote converter control.
Used Products
ipConv
Universal protocol converter for highest degree of flexibility
Details...
Used Protocol Stacks
Hardware
IPC194 19" 4U
(no longer available)
The robust and flexible industrial PC. This PC industrial PC can be extended about a passive backplane with a high number of ISA and PCI cards.
Details...
CS
Channel switch for coupling of two redundant devices to one communication line
Details...