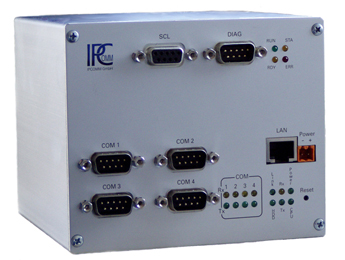 HECPS is a PC-based embedded controller especially designed for industrial applications. It contains no rotating parts, with its low power consumption a fan is not needed.
The basic version of HECPS is fitted with a PC/104 CPU module and has four serial RS232 interfaces and Ethernet adapters. Unlike HEC, HECPS also has a Profibus DP interface.
A CompactFlash (MTBF > 1,000,000 h) is used for storage.
Integrated LEDs offer a number of diagnostic functions. A power indicator, a send and receive indicator for the RS232 interfaces and a network controller indicator show the current operation states. A CPU LED shows the different software conditions.
Performance Overview
Graphical comparison of IPCOMM gateways with regard to the maximum number of information changes/s at 100% throughput and the maximum number of node variables that can be managed, processed and transmitted.
Technical Details
CompactFlash cartridge with up to 16 GB (MTBF ≥ 1.000.000h)

SDRAM max. 128 Mbyte, SO-DIMM

4 x RS232 serial interfaces (COM1 - COM4) surge protected
1 x 10BaseT-LAN
Optional: 1 x CAN-Bus (opto-isolated)
PROFIBUS-DP, Slave interface (9,6 KBaud bis 12 MBaud)
Further interfaces on request

Power LED
Link and activity for LAN interfaces
Transmit and receive display module for RS232 interfaces (COM 1 - COM 4)
HDD LED
LED to show different software conditions
PROFIBUS (RDY, RUN, STA, ERR)

Battery bufferd real time clock (RTC)
Watchdog
Reset

Environmental- / storage temperature

0° C to 45° C / -10° C to 70° C

5 % to 90 % non-condensing
Documentation