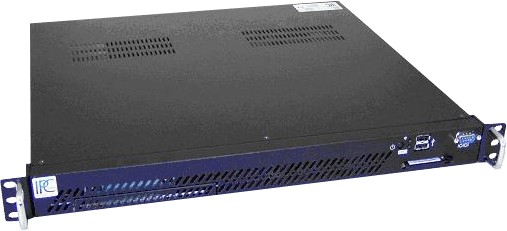 IPC191V3WIN 19" 1U (Windows Version) serves as the hardware platform for our software products ipConv, ipConvOPC and others. Compared with IPC191V3 19" 1U, the IPC191V3WIN 19" 1U industrial PC offers a minimum 4 GB CompactFlash mass storage, 2 GB DDRII RAM, DVD-RW drive as well as Microsoft Windows XP Professional. IPC191V3WIN 19" 1U offers more CPU performance and higher storage capacity than HEC and MEC. It is also fitted with up to 16 serial RS232 ports. The device comes with one 10/100/1000 MBit and three 10/100 MBit LAN interfaces as standard, but can be fitted with more. Its two PCI slots make it highly upgradable.
All industrial PCs are assembled and subjected to rigorous testing. This includes a comprehensive functional test before and after an exhaustive burn-in test of minimum 48 hours.
Like all our systems IPC191V3WIN 19" 1U has been designed for sustained continuous 24-hour operation and maximum availability. True to our 'simpler is better' design philosophy, we intentionally avoided highly sophisticated components, placing a high value on passive (i.e. fanless) component parts and, of course, quality was another determining factor when choosing the individual elements. While its architecture is highly similar to that of conventional microcontroller based equipment, IPC191V3WIN 19" 1U offers the hardware infrastructure required for an operating system such as Linux or Windows. The new IPC191V3 19" 1U uses a very fast passively cooled processor. This processor is up to three times faster than IPC191V2 CPU.
Some distinctive features of IPC191V3WIN 19" 1U:
Windows XP Professional
passive, fanless power supply
passive CPU and chipset cooling
two premium redundant supporting fans for expanding the temperature range and durability, which are only brought on stream when critical system temperatures are reached
minimum 4 GB CompactFlash with a MTBF ≥ 4,000,000 h for mass storage
2 GB DDR RAM
CD/DVD drive and burner
Backup software
The operating system and the application are configured in a way so that the limited number of write cycles and comparably low write speed of Flash mass storage do not affect performance. Due to this special configuration, the CompactFlash is hardly accessed during runtime. The device can be administered and operated using the keyboard/mouse or remotely via Ethernet. All temporary files, such as log files are written to an internal RAM disk, enabling a high read/write speed. In addition, this renders the system insensitive to sudden power outages. After more than ten years' usage, the CompactFlash has proven to be a highly suitable storage medium for our applications.
Using a backup system, it only takes a few steps to swiftly restore the system to its original state or make your own backups of the entire system.
Standard delivery of the system includes either a 90 - 264V AC, 127 - 373V DC (autorange) or a 12V/24V DC power supply.Other voltages on request.
Performance Overview
Graphical comparison of IPCOMM gateways with regard to max. number of changes of information/s at 100% throughput and max. number of configurable data points.
Technical Details
- 19" rack mount chassis (1U)
- dual PCI riser card
- The industrial PC doesn't have any CPU and power supply fan. The hardware is equipped with two passive chassis fans which are switched on only if a certain CPU temperature and system temperature respectively has been exceeded (configurable)

- fanless
- 90 - 264 V AC, 127 - 373 V DC auto range
- input frequency: 47 - 63 Hz
- inrush current: 30 A (115 V AC) / 60 A (230 V AC)
- hold up time: ≥ 20 ms, 230 V AC
- power consumption: max. 50 W (depending on the used type)
- CE/TÜV certified (EN 60950-1, UL 60950-1)

Power Supply DC (optional)

- fanless
- 10 - 36 V DC
- inrush current: 30 A max. at 24 V DC
- hold up time: > 1 ms at +24 V DC and rated load
- power consumption: max. 50 W (depending on the used type)
- CE/TÜV certified (EN 60950-1, UL 60950-1)

- VIA Nano 1 GHz, fanless CPU - up to 3 x faster than IPC191V2 CPU
- DDR2 RAM max. 2 GB
- IDE interface
- SATA interface
- 2 x serial ports
- real-time clock / calendar
- 1 x RJ45 10/100/1000 BaseT LAN interface, 3 x RJ45 10/100 BaseT LAN interfaces onboard, more on request (over PCI)
- 4 x USB 2.0 (2 at front side, 2 at back side) outward, more on request
- RAID SATA functionality (RAID Level 0 or RAID Level 1)

- up to 16 serial interfaces
- DB9 male connectors, optional RJ45, DB25 male or female connectors
- baud rate 50 bps to 921,600 bps transmission speed
- 15 KV ESD protection

- power LED
- LED to show different software conditions

- battery bufferd real time clock (RTC)
- reset

- rugged CompactFlash, industrial - grade
- max. 16 GB capacity supported
- MTBF ≥ 1,000,000 h
- no moving parts
- shock: 1000 G max.
- removable flash card
- Bad block scanning/handling
- Static wear leveling system
- 6-Bit ECC
- 2,000,000 write/erase cycles
- vibration: 15 G peak to peak max.
- very short access time

Mass Storage SATA HDD Raid Level 1 or 0 possible (optional)

- 2 server HDD, for continuous operation
- max. 2 TB
- MTBF ≥ 1,200,000 h

Mass Storage SATA SDD Raid Level 1 or 0 possible (optional)

- no moving parts
- max. 128 GB supported
- very short access time
- very high write/read performance

Supported Operating Systems

CD/DVD writer with slot-in technology

operating temperature: 0° C bis 50° C
storage temperature: 0° C bis 60° C
rel. humidity: 5 % bis 95 % (non-condensing)

All components are CE certified and tested according to type of test
EN 61000-6-2:2005 / EN 61000-6-4:2007
EN 55022, EN 55022, EN 55022, EN 55016-2-3, EN 61000-3-3, EN 61000-3-2, EN 61000-4-2, EN 61000-4-3, EN 61000-4-4, EN 61000-4-5, EN 61000-4-6, EN 61000-4-11
(The test report is available on request.)

height: 1 U
dimension (W/H/D): 19"/1.75"/15" (482.6 mm/44.45 mm/381 mm)
weight: 5.8 kg
Documentation