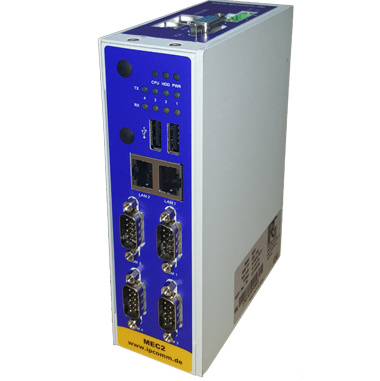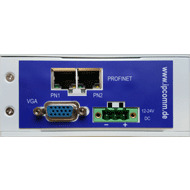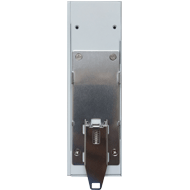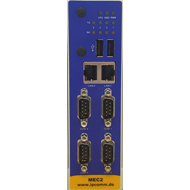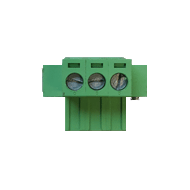 The Midrange Embedded Controller MEC2 PROFINET is suitable for industrial use in a critical environment. The MEC2 PROFINET is built for rugged work environments and shows an impressive performance. Furthermore, the basic system MEC2 can be equipped with a Profinet IO MiniPCI express card. The use as Profinet IO server is possible.
The controller comes with a fanless Intel Atom processor, extra low power consumption and an industrial temperature range of -20° to +50°.
The device is equipped with four serial and two 1 Gigabit Ethernet interfaces as standard. The serial interfaces are software configurable as RS-232/RS-422/RS-485 interface.
The IPCOMM hardware systems are delivered with ipLinux, a Linux operating system customized to our applications.
The MEC2 PROFINET is suitable for mounting on a DIN-rail.
Performance Overview
Graphical comparison of IPCOMM gateways with regard to the maximum number of information changes/s at 100% throughput and the maximum number of node variables that can be managed, processed and transmitted.
Technical Details
Intel Atom 1.46 GHz processor, fanless

DDRIII RAM, max. 4,096 MByte

Standard system I/O outlet

- 4 x 9-pin D-SUB male connector RS-232/422/485
- 1 x CompactFlash
- 2 x LAN RJ-45 10/100/1000 Base-T
- 2 x USB
- 1 x 15-pin D-SUB female for VGA

PROFINET IO system interface*

Master (IO controller) or slave (IO device)
- Max. 128 server (IO device)
- 2 x industrial Ethernet, RJ45 female connector
- Potential-free
- 10BASE-T/100BASE-TX
- Inputs and outputs: max. 1440 Bytes per server
- IO device V3.5.35 – V3.5.x

- Power
- Software state (CPU-LED)
- Link and activity for LAN interfaces
- Transmit and receive LEDs for RS-232 interfaces (COM 1 to COM 4)
- PROFINET (SF, BF, LINK, RX/TX)

- CompactFlash, Industrial - Grade
- Removable flash card
- SLC NAND
- No moving parts
- Max. 64 GB supported
- Shock: 1,000 G max.
- MTBF ≥ 4,000,000 h
- Bad Block Scanning/Handling
- Wear-Leveling System
- ECC
- 2,000,000 write/erase cycles

2g@5-500Hz, amplitude 0.35mm (operation/storage/transport)

- Battery bufferd real time clock (RTC)
- Watchdog

12 - 24 V DC (± 20 % ) / 15 W max. (depending on the used type)

Aluminum and steel chassis, including clip for mounting on a 35 mm DIN-Rail
Protection class: IP40

Operating temperature:-20° C to 50° C
Storage temperature:-40° C to 85° C
Relative humidity: 5 % to 95 % non-condensing
*Either a PROFINET interface master
or
slave is possible per device!
Documentation