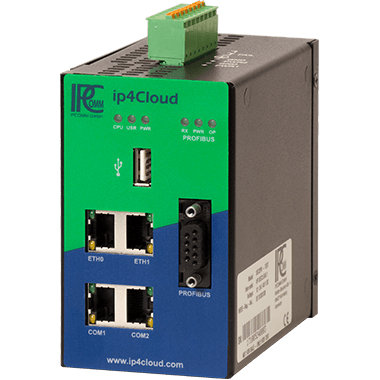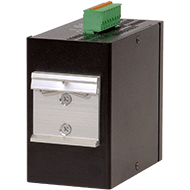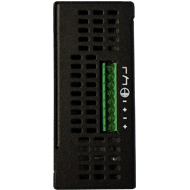 SEC3PB is an embedded controller designed for use in industrial applications. Compared to the basic system SEC3 it comes with an additional PROFIBUS-DP interface. It has no rotating parts. A fan is not required due to the low power requirement.
SEC3PB has two serial RS232/RS422/RS485 interfaces and two Ethernet adapters. Thanks to a redundant power supply different input voltages can be used.
SEC3PB is used in combination with the product ip4Cloud/SEC3PB. The system is supplied with the newest version of our real-time ipLinux operating system.
The device is equipped with a status relay, which can be freely configured by the software. In the case of power failures or non-fulfillment of a user-defined condition a changeover switch switches into the idle state "FAIL".
Various diagnostic functions are available via built-in LEDs. A power indicator, transmit and receive indicator for the serial interfaces as well as an indicator for the network controller provide information about the current operating status.
Performance Overview
Graphical comparison of IPCOMM gateways with regard to the maximum number of information changes/s at 100% throughput and the maximum number of node variables that can be managed, processed and transmitted.
Technical Details
2x RJ45 RS232 / RS422 / RS485
Baud Rate: 300 – 115200 Baud

1x PROFIBUS interface DB9 female
(DPV0, RS485 9600 to 12M Baud, passive)

1 x USB 2.0 up to 480 Mbps

All interfaces are ESD protected
(ESD, surge and burst see EMC)

Diagnostics (Status LEDs)

PWR: Power LED
USR: Free configurable LED by software
CPU: LED to show different software conditions
COM1/COM2: Send and receive LED for serial interfaces
ETH0/ETH1: Link and activity LED for Ethernet interfaces
PROFIBUS RX: Receive LED
PROFIBUS PWR: Power LED for PROFIBUS interface
PROFIBUS OP: Operation LED

Battery bufferd real time clock (RTC)
State relay "FAIL"
Hardware watchdog
Temperature monitoring
Power supply monitoring

12 / 24 / 48 V DC (9 – 60 V DC)

Max. 10 watt (typ. 4 W without USB)

0.13 – 3.31 mm² (AWG 26...12, solid or stranded wire)

Redundant power supply with fault contact

Operating- / storage temperature

-20° C to 60° C / -40° C to 85° C

5 % to 95 % non-condensing

EN 55032: 2015
EN 61000-6-2: 2005

Electromagnetic Compatibility (EMC) – Emission Requirements:

EN 55016-2-1:2014
Conducted emission on power supply lines in the frequency range 150 kHz - 30 MHz
EN 55016-2-1:2014
Conducted emission on telecommunication lines in the frequency range 150 kHz - 30 MHz
EN 55016-2-3:2010 + A1:2010 + AC:2013 + A2:2014
Radiated emission in the frequency range 30 MHz - 1 GHz
EN 55016-2-3:2010 + A1:2010 + AC:2013 + A2:2014
Radiated emission in the frequency range 1 GHz – 6 GHz

Electromagnetic Compatibility (EMC) – Immunity Requirements

EN 61000-4-2: 2009
Electrostatic discharge (ESD)
- Contact discharge ± 6 kV
- Air discharge ± 8 kV
EN 61000-4-3: 2006 + A1:2008 + A2:2010
Immunity to RF electromagnetic fields in the frequency range 80 – 2700 MHz, Test level 10 V/m
EN 61000-4-4: 2012
Immunity to fast transients (Burst)
- DC power port ± 4 kV
- Signal lines ± 2 kV
EN 61000-4-5: 2014
Immunity to surges on power supply lines (Surge)
- DC power port: line <-> ground ± 2 kV
- DC power port: line <-> line ± 2 kV
EN 61000-4-5: 2014
Immunity to surges on shielded signal lines (Surge)
- Shielded lines ± 2 kV
EN 61000-4-6: 2014
Immunity to conducted interference induced by radio-frequency fields in the frequency range 150 kHz – 80 MHz, Test level 10 V
Documentation