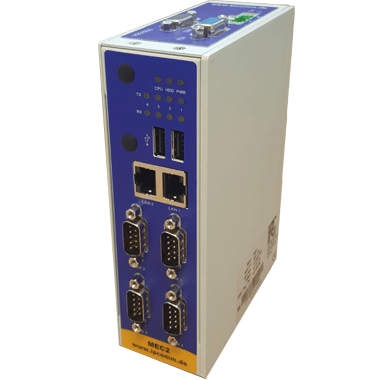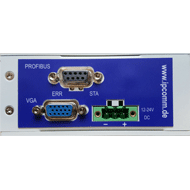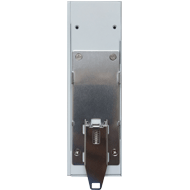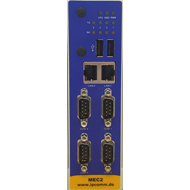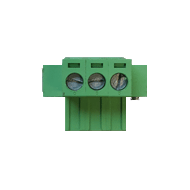 The Midrange Embedded Controller MEC2 PROFIBUS is suitable for industrial use in a critical environment. The MEC2 PROFIBUS is built for rugged work environments and achieves forty times the performance compared to the previous model HECPM or HECPS respectively. Furthermore, the basic system MEC2 can be equipped with a Profibus DP-V1 MiniPCI express card. The use as Profibus master (up to 125 slaves) as well as Profibus slave is possible.
The controller comes with a fanless Intel Atom processor, extra low power consumption and an industrial temperature range of -20° to +50°.
The device is equipped with four serial and two 1 Gigabit Ethernet interfaces as standard. The serial interfaces are software configurable as RS-232/RS-422/RS-485 interface.
The IPCOMM hardware systems are delivered with ipLinux, a Linux operating system customized to our applications.
The MEC2 PROFIBUS is suitable for mounting on a DIN-rail.
Performance Overview
Graphical comparison of IPCOMM gateways with regard to the maximum number of information changes/s at 100% throughput and the maximum number of node variables that can be managed, processed and transmitted.
Technical Details
Intel Atom 1.46 GHz processor, fanless

DDRIII RAM, max. 4,096 MByte

Standard system I/O outlet

- 4 x 9-pin D-SUB male connector RS-232/422/485
- 1 x CompactFlash
- 2 x LAN RJ-45 10/100/1000 Base-T
- 2 x USB
- 1 x 15-pin D-SUB female for VGA

DP master or DP slave
- Max. 125 slaves
- 1 x RS-485, DB9 male connector
- Potential-free
- 9,6 KBit/s to 12 MBit/s
- Inputs /outputs: max. 244 Bytes per slave
- DPV0 / DPV1 Class1 & Class 2

- Power
- Software state (CPU-LED)
- Link and activity for LAN interfaces
- Transmit and receive LEDs for RS-232 interfaces (COM 1 to COM 4)
- PROFIBUS (STA, ERR)

- CompactFlash, Industrial - Grade
- Removable flash card
- SLC NAND
- No moving parts
- Max. 64 GB supported
- Shock: 1,000 G max.
- MTBF ≥ 4,000,000 h
- Bad block scanning/handling
- Wear leveling system
- ECC
- 2,000,000 write/erase cycles

2g@5-500Hz, amplitude 0.35mm (operation/storage/transport)

- Battery bufferd real time clock (RTC)
- Watchdog

12 - 24 V DC (± 20 % ) / 15 W max. (depending on the used type)

Aluminum and steel chassis, including clip for mounting on a 35 mm DIN-Rail
Protection class: IP40

Operating temperature:-20° C to 50° C
Storage temperature:-40° C to 85° C
Relative humidity: 5 % to 95 % non-condensing
*Either a PROFIBUS interface master
or
slave is possible per device!
Documentation