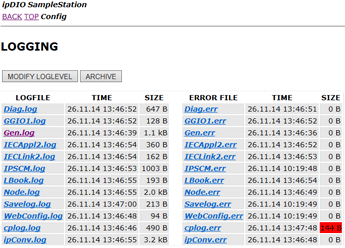 ipConv allows you to keep track of the system state and information flow inside the converter by recording and archiving all information passing through a module for a given time period. This data can be recorded:
All data to/from ipConv sent and received via the relevant communication module
System messages, i.e. connection break-off, communication error messages etc.
Configuration and software error messages
The range of data recorded is defined by the logging level. This can be changed dynamically (at runtime) or statically (in the configuration) for each module.

The logging level defines the representation format for the sent or received information. Data can be represented either in hexadecimal code or in decoded, symbolic form or both. This example shows the content of a logfile generated from an IEC 60870-5-101, Slave protocol stack.

Data is stored directly in the easy to read ASCII format. Logfiles can be downloaded via a web interface for offline diagnosis. Or you can keep track of the communication online via the TCP/IP "telnet" service.

All recorded data is archived cyclically, enabling you to keep track of communication over a period of days or even weeks (depending on the data volume).
19.01.99 10:24:01 IECAppl CA=286 connected !
(2): << M_EI_NA_1 SQ=0 NUM=1 T=0 P/N=0 CT=<init> CA=<286>
0: COI=<00>
(2): >> C_IC_NA_1 SQ=0 NUM=1 T=0 P/N=0 CT=<act> CA=<65535
0: QOI=<14>
(2): << C_IC_NA_1 SQ=0 NUM=1 T=0 P/N=0 CT=<actcon> CA=<28
0: QOI=<14>
(2): << M_SP_NA_1 SQ=0 NUM=61 T=0 P/N=0 CT=<inrogen> CA=<
131584: SIQ=<OFF Q=<>>
459272: SIQ=<OFF Q=<>>
459273: SIQ=<OFF Q=<>>
(2): << M_SP_NA_1 SQ=0 NUM=61 T=0 P/N=0 CT=<inrogen> CA=<
524800: SIQ=<OFF Q=<>>
852489: SIQ=<OFF Q=<>>
(2): << M_SP_NA_1 SQ=0 NUM=61 T=0 P/N=0 CT=<inrogen> CA=<
3015175: SIQ=<OFF Q=<>>
3473923: SIQ=<OFF Q=<IV >>
(2): << M_DP_NA_1 SQ=0 NUM=20 T=0 P/N=0 CT=<inrogen> CA=<
3014916: DIQ=<DIST Q=<>>
3539200: DIQ=<DIST Q=<IV >>
3539204: DIQ=<DIST Q=<IV >>
(2): << M_ME_NB_1 SQ=0 NUM=39 T=0 P/N=0 CT=<inrogen> CA=<
131840: SVA=<0> QDS=<Q=<>>
918784: SVA=<0> QDS=<Q=<>>
983808: SVA=<0> QDS=<Q=<>>
(2): << C_IC_NA_1 SQ=0 NUM=1 T=0 P/N=0 CT=<actterm> CA=<2
0: QOI=<14>
(2): << M_SP_TA_1 SQ=0 NUM=1 T=0 P/N=0 CT=<spon> CA=<286>
1049088: SIQ=<ON Q=<>> BT3=<IV>