System configuration is completely executed in a web browser. No other special configuration tools are required, a normal notebook with a network interface card and web browser are all that is needed.
ipConv in its current version 4 enables encrypted communication between web server and browser via the HTTPS protocol.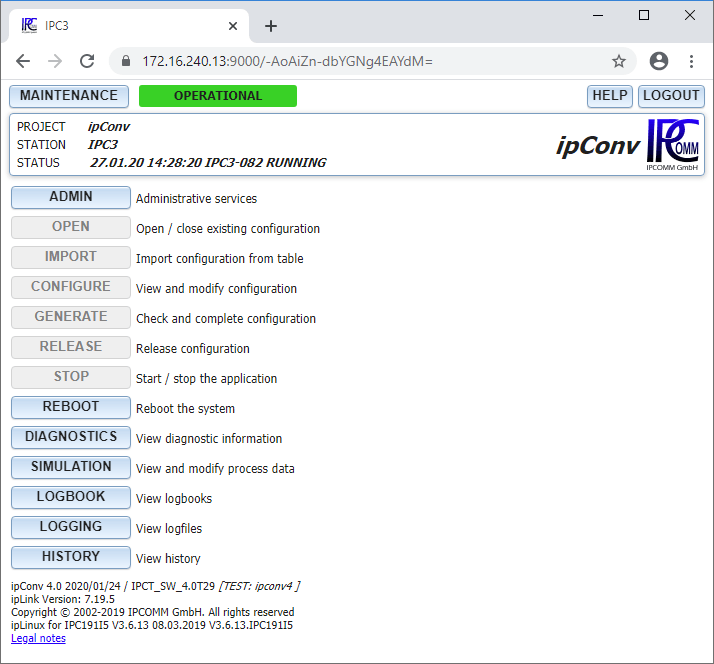 The main menu provides access to all relevant functions of ipConv, showing the overall system status at a glance.
The following functions are available:
Switching operating mode OPERATIONAL (unattended station) or MAINTENANCE (allows full access to all ipConv functions)
Backup and restore the complete configuration
License management (ADMIN)
Installation of (DEMO-) licenses, (un-) limited and (un-) restricted licenses
Software upgrade (ADMIN)
Import configuration information from tables
The Excel file can be imported directly (Supported formats: .xlsx, .xlsm, .csv)
Edit configuration parameters
Release and versioning of a station configuration
Start up and stop the system
Access diagnostic data (see also diagnostics)
Access process image and data simulation (see also simulation)
Creation of own logbooks
Changes of normalized information are selectively documented in configurable logbooks for tracing or logging reasons over a period of time.
Access current logfiles (see also logging)
The following example shows the configuration of a protocol stack (here IEC 60870-5-101, Master). All parameters are shown with their configured values, relevant measurement units, and short descriptions.
A parameter value can be changed by clicking on the parameter name. A detailed description is also shown, if available. The entered value is checked for the permissible value range, or a selection list offers a pre-selection of permissible values.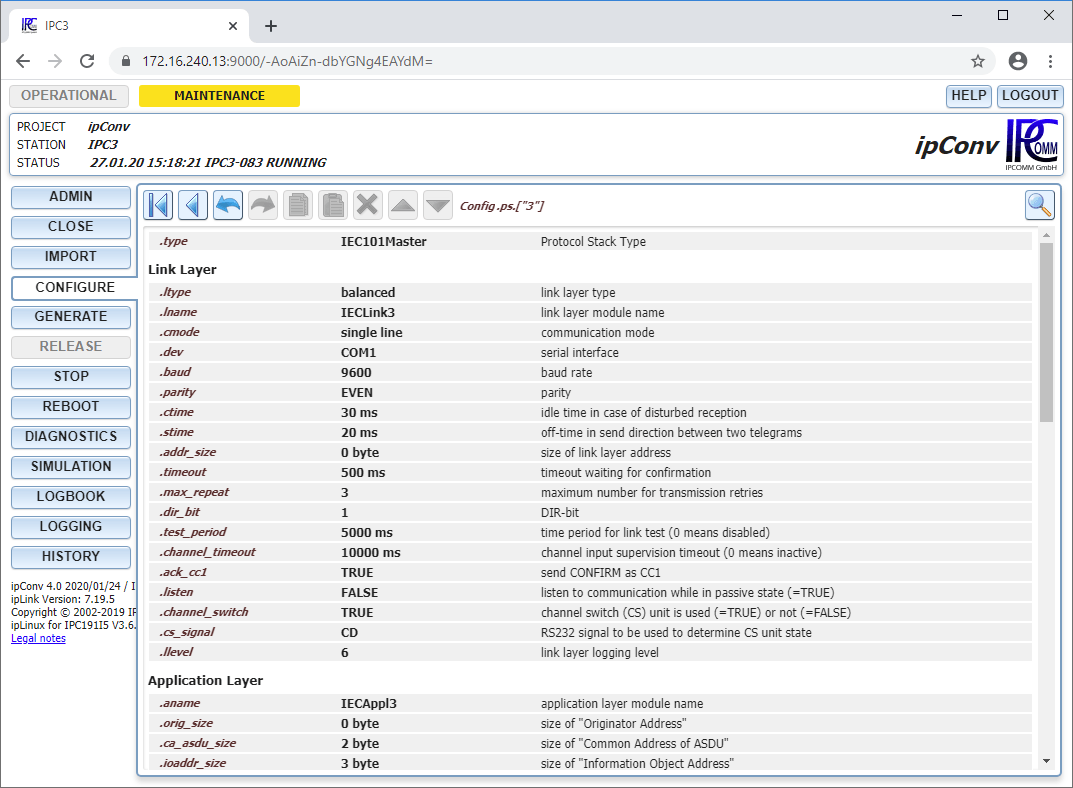 Only relevant parameters are displayed, for instance, if the link layer type is set to "unbalanced", only the corresponding parameters are shown.
ipConv enables fast and efficient processing of large volumes of data points by allowing data import from tables. These tables are based on templates and may be processed with various spreadsheet programs, such as Microsoft Excel. The extended use of formulae minimizes the data volume, substantially reducing the number of errors.