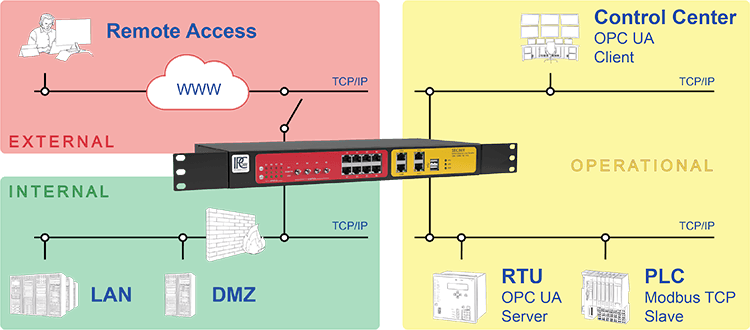 ipELB is a cybersecurity system for industrial networks that can physically disconnect Ethernet connections. It features relay-controlled 10 Gigabit Ethernet ports, each of which can be turned on and off via a toggle switch on the device as well as remotely. Remote control is based on standardized communication protocols.

To enable/disable the Ethernet ports, bistable relays that maintain their state even during power outages are used. Existing connections will not be affected accordingly.
The applied SEC3ER hardware platform features a digital I/O module to control and capture digital states, and to physically disconnect up to four Ethernet port pairs. For this purpose, eight digital inputs and outputs are available, in addition to a variety of fieldbus protocols, telecontrol protocols, and established IT/cloud protocols, to monitor and control the connections of the 4-Port Ethernet Line Breaker.

The integrated web interface provides numerous configuration settings to automate the separable Ethernet connections. It includes powerful functions for data processing and provides a digital I/O interface that can be used to create complex switching scenarios.
Features
Support for 10M / 100M / 1G and 10G Ethernet
Transparent data transmission
Controlled bidirectional data exchange between systems
Network segmentation
Daisy chain of multiple SEC3ER
Conduct-through Power over Ethernet (PoE)
Control Options for the Ethernet relays
Manually via 3-way switches
Using the web configuration interface
Digital inputs
Protocol-based automation
Internal time switch
Since ipELB supports communication using numerous protocols, it can be easily integrated into existing projects, as the following examples demonstrate:
The following use cases illustrate potential applications of ipELB.